San Diego's Largest Rummage Sale Since 1927
Annual Rummage Sale
San Diego's largest rummage sale, started in 1927, will be held again on Saturday March 9th and Sunday March 10th 2019, in the Activity Center (2145 Park Blvd., east side of Balboa Park) in Balboa Park.  New and gently-used merchandise, including jewelry, art/frames, antiques, collectibles, furniture, sporting equipment, holiday and home décor, kitchenware and small appliances, toys, electronics, books and clothing will be sold to raise money for Balboa Park and community non-profits.
The Thursday Club, a group of volunteers dedicated to educational, cultural and civic community involvement and leadership for more than 90 years in San Diego, has returned almost $2 million to Balboa Park and the community through club activities.
Each year half of the proceeds of the sale go to benefit a variety of programs and projects within Balboa Park and half goes to support non-profit organizations in the San Diego community.
2019 Rummage Sale Flyers in 5 Languages!
Check back January 2019!
If you donated rummage to The Thursday Club Rummage Sale and need a tax receipt.  Please click on the document below.
TCRS Tax Receipt Form (.pdf format)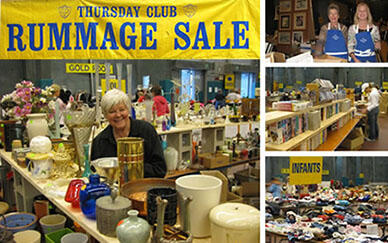 Time lapse video of the 85th Annual Thursday Club Rummage Sale
The Thursday Club
92nd ANNUAL RUMMAGE SALE
Largest Thrift Garage & Estate Sale in Southern California!
Saturday March 9th & Sunday March 10th 2019

Location
Balboa Park Activity Center
2145 Park Blvd., San Diego, CA, 92101
(located at the corner of Park Blvd.
and Inspiration Point Way)
Google Map
Parking and Admission are free.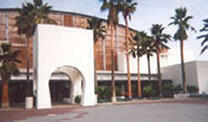 2018 Grant Recipients
Community & Balboa Park Non Profits
Balboa Park – Activity Center and Park & Recreation Department
Balboa Park Cultural Partnership
Cornerstone Therapeutic Riding Center
Emilio Nares Foundation
Goodwill Industries of San Diego
Include Autism
PAVE Physician Advocates for Veterans
REINS Riding Emphasizing Individual Needs and Strengths
Ronald McDonald House Charities
San Diego Youth Symphony and Conservatory
San Diego Zoo Global